The Denver Art Museum re-opened on Sunday, October 24th, unveiling the new Anna & John J. Sie Welcome Center and the newly re-imagined and renovated Gio Ponti-designed Lanny and Sharon Martin Building. The reopening took place on the 50th anniversary of the Martin Building, and is a timely celebration of the comprehensive campus reunification and building renovation project designed by Machado Silvetti and Fentress Architects.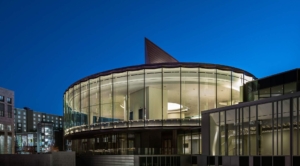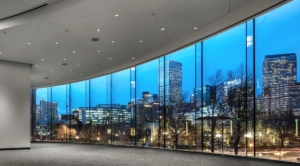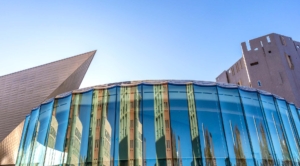 The 50,000 square foot Sie Welcome Center's second-story façade, designed and engineered by Sentech in tight collaboration with Fentress, Machado Silvetti and Harmon, is comprised of a series of 25-foot tall, 8-foot wide, curved insulated structural glass panels along an elliptical footprint. It is the first structure of its kind to use jumbo curved panels in a design of this complexity, coupled with seismic considerations.
Early in the design process, the design team- led by Fentress Architects and Machado Silvetti, in collaboration with Harmon and Sentech- established key goals that drove the selection of the façade & support system. These goals were based on the principles of transparency and simplicity. This meant minimizing the use of visible metal components and connections, and utilizing glass as the primary structural element to support the façade and transfer loads to the support structure.
---
"Completing this gestural cycle, the Sie Welcome Center gives Denver a surprising, and surprisingly compelling, bit of urbanism, turning a staid high-art ghetto into a moment of genuine architectural theater."

– Ian Volner, AN
---
Th new Sie Welcome Center serves to visually integrate the entirety of the campus. It connects the Hamilton and Martin buildings, and its defining feature- the soaring elliptical structural glass event space- is truly an unprecedented feat of engineering. It leverages the most innovative, state-of-the-art technology in the field of structural glass, and incorporates a unique connection system to isolate the façade from building lateral movement. This façade application is the first of its kind to utilize curved, jumbo panels with this tight of a radius in an elliptical footprint- combined with a building movement isolation scheme.
On behalf of the Sentech team, a warm congratulations to the entire project team that made this incredible collaboration a reality!
Learn more about the Denver Art Museum project HERE
Check out the latest article from The Architect's Newspaper on the Denver Art Museum re-opening:
Gio Ponti's incongruously stolid Denver Art Museum sprouts a space-age appendage
Architect: Machado Silvetti (Design Architect), Fentress Architects (Architect of Record)
Glazing Contractor: Harmon Inc.
General Contractor: Saunders Construction
Building Envelope Consultant: Simpson Gumpertz & Heger, Inc. 
Photo Credit: James Florio & Eric Stephenson