Sentech's latest project feature is located in Atlanta, Georgia at Emory University's newly opened Emory Health Sciences Research Building II (HSRB II). The university was originally founded in 1836  as a small Methodist college in Georgia, and is renowned for its liberal arts college, professional schools, and has one of the leading healthcare systems in the southeast.
The new structure, completed in March 2023, was created to be a "trailblazing space designed to incite better collaborations and bigger impacts in biomedical research". It is an extension of Emory's mission to advance research across its Woodruff Health Sciences Center. The 8-story high-performance, sustainably-designed structure houses collaborative research spaces and laboratories, along with an innovation zone for startups and entrepreneurial research.
A core focus of the design team, the 6-story, central atrium not only connects old and new, but was a critical element in supporting campus-wide sustainability initiatives, reducing energy consumption, and achieving LEED Gold Certification. Designed by architecture firm HOK, the firm leveraged creative sustainable design strategies that included utilizing natural daylight, automated shading and the use of solar panels, a geothermal well field, and a rainwater capture system. These strategies, combined, reduces the building's embodied carbon by 5-10%.
The soaring 6-story structural glass entrance wall at the heart of the atrium was designed, engineered and supplied by Sentech. The suspended façade allows natural light to permeate the atrium and create a sense of openness and connection.  The prominent full-height façade is supported by a specialty concealed truss at the roof level and features Sentech's VetraFin-S System, which uses hidden glass support connections connected to steel mullions and bird-friendly glass. The operable panels at the base – designed and manufactured by Sentech – are actuated by the fire alarm system and are designed to open and release smoke in a fire event.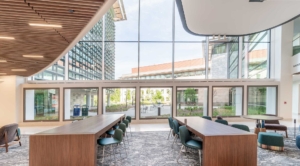 Interested in learning more? Visit the project page –> https://www.sentechas.com/projects/emory-university-hsrb/
Location: Atlanta, GA
Completion Date: 2023
Architect: HOK
Contractor: JE Dunn
Glazing Contractor: W.S. Nielsen
Owner: Emory University