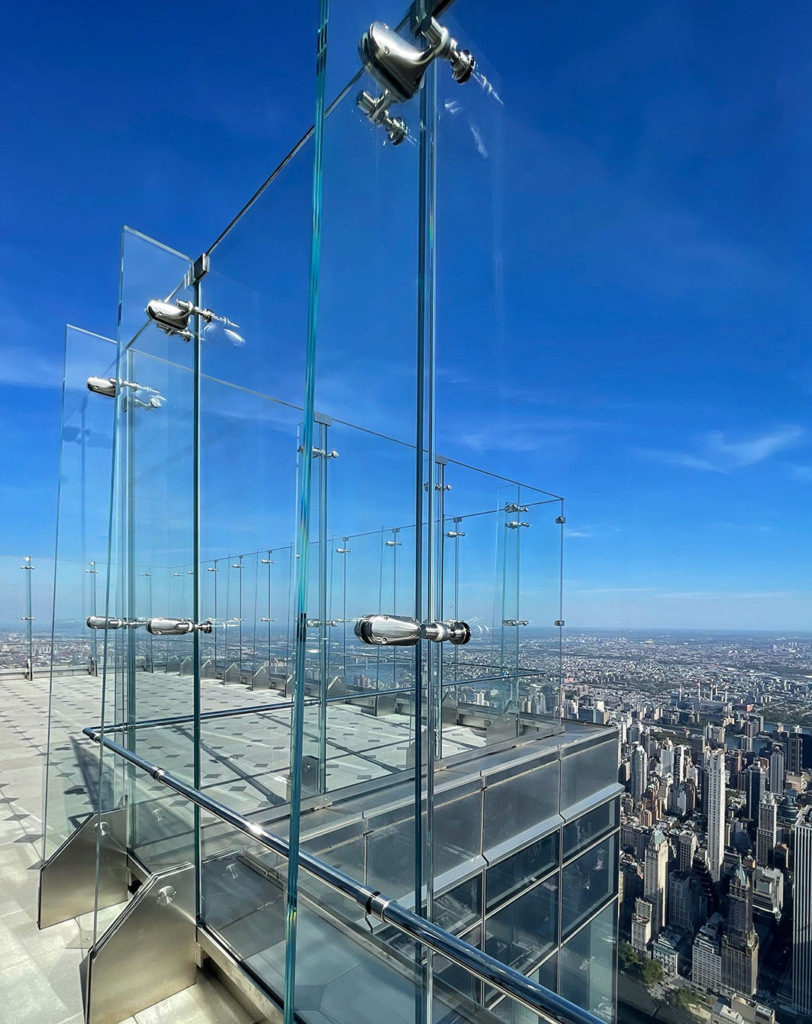 Sentech's VetraFin-G Series System has been featured in some desirable locations, but soaring 1,460 feet over midtown Manhattan and spanning the 96th and 131st floor of the tallest residential building in the world is certainly one of the most iconic.
Central Park Tower, located at 217 West 57th Street on Billionaires' Row in Midtown Manhattan, is one of the most prestigious addresses in the world. The 131-story residential skyscraper was designed by Adrian Smith + Gordon Gill (who also designed the Burj Khalifa in Dubai and the Jeddah Tower in Saudi Arabia). The 1,550-foot-tall tower yields 179 units, including a triplex penthouse that spans nearly 17,500 square feet and carries a price tag of $250 million- the most expensive home ever listed in the United States.
Not only is Central Park Tower's 131st floor penthouse the tallest residential unit in the world, but it also features unobstructed views in every direction- in part thanks to Sentech's VetraFin-G Series System balustrades- designed and engineered to withstand extremely high wind loads. The system utilizes laminated, tempered, heat-soaked glass coupled with custom machined fittings, custom heavy-duty base brackets, mirror polished stainless steel railings, and built-in stainless steel lightning protection that was required due to the height of the tower.
Some of the key challenges in the design and engineering of the system arose due to wind pressure, parapet loads and designing a system to be installed from the inside of the terrace, instead of the outside of the terrace.
Visit the Central Park Tower project page (https://www.sentechas.com/projects/central-park-tower/) to learn more about the project, structural glass system, and challenges faced by the design and engineering team.
---
Check out this video of the full scale panorama view: https://www.youtube.com/shorts/46Rq0-R1KqQ
---
Architect: Adrian Smith + Gordon Gill Architecture
Contractor: Lendlease
Glazing Contractor: American Industries Corp
Photography: Michael Young, New York YIMBY
In The News
WSJ: Will Someone Pay $250 Million to Live Atop the World's Tallest Condo Tower? The Developer Thinks So
Central Park Tower Penthouse is a New Wonder of the World
Take a Look Inside the Most Expensive Home in the Country
Inside the $250 Million Penthouse on Billionaires Row
Central Park Tower Finishes Construction as New York City's Tallest Residential Building