Sentech is excited to announce that the entrance façade at Concho Tower III– design, engineered and supplied by Sentech- has been named a winner in the 4th annual USGlass Magazine Design Awards in the Structural Glass- Facades category. We are also honored that the publication chose to highlight the project on the cover of the January publication.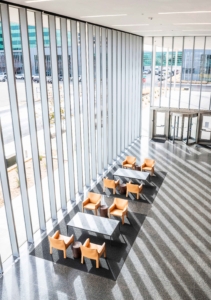 The structural glass entrance walls of Concho Tower III were originally designed by RWA Architects as an expansion to the Concho Resources Headquarters in Midland, TX. During the design, Sentech's VetraFin A-Series System was selected to provide a highly transparent, cost-effective aluminum fin structural glass system with full-height glass panels. This allowed for the utmost flexibility in design and finish options. In addition, simple lines and minimal connections enabled the team to achieve a unique, streamlined aesthetic with no exterior hardware. This was critical to the design mandate: to increase natural light flow and a feeling of openness in the space. The result is an entrance environment where both visitors and employees alike feel welcome.
The winners of the annual USGlass Magazine Design Awards capture today's architectural trends and developments, open to all members of the architectural glazing industry. Judges score the projects on design innovation, aesthetic achievements, and technical difficulty. The judges are comprised of an esteemed panel of seasoned and knowledgeable industry players from across the county.
At Sentech, we believe Concho Tower III is a harbinger for where the architectural industry is heading- increasingly towards the use of fins and decorative elements that combine structural glass with materials such as wood, aluminum and steel. The entrance façade at Concho Tower III, utilizes specialized aluminum fins that sit on the interior of the façade to create an elongated design for the structural glass walls. These aluminum fins are comprised of 10-9/16″-deep custom aluminum extrusions (6063-T6), with two coats of Kynar finish. Moreover, the glass panels themselves are composed of 13/16″ thick, low-iron, tempered laminated glass with a 5/8″ PVB gray vertical frit interlayer.
In total, the 3 facades span 140-feet in length by 26-feet in height. Each one of the slim glass panels span 26-feet from floor-to-ceiling, by 2-6″ in width. The total square footage of structural glass measures just over 3,600 square feet. The resulting façades create a stunning echo for the radiant Midland sunsets, with the aluminum fins playing a threefold role as structural, shading and decorative elements. Inside the entrance, their shadows rhythmically dance with the changing position of the sun. Welcoming and stunning, this VetraFin-A system allows for natural light flow and movement throughout the day, and is worth a visit on your next trip to Midland!
On behalf of the Sentech team, a big thank you to USGlass and the judges for recognizing Concho Tower III, Sentech, and the entire team that worked tirelessly to make this project a reality.
---
---
The Winning Project Team
Architect:
RWA Architects

Glazing Contractor:
Duke Glass

GC:
W.S. Bellows Construction Corporation

Photo Credit:
Hester + Hardaway
Read more –> Link to the USGlass January 2023 Issue
Learn more about Concho Tower III –> Link to Project Page here