We are proud to unveil our recently completed structural glass façades at Concho Tower III, now the ConocoPhillips building, in Midland, TX. Utilizing Sentech's VetraFin-A series system, the entrance façade features 3 structural glass walls spanning 140-feet in length and 26-feet in height. The slim glass panels span 26-ft from floor-to-ceiling and 2'-6" in width, totaling over 3,600 square feet of structural glass. The elongated design utilized specialized aluminum fins that sit on the interior of the façade, comprised of 10-9/16"-deep custom aluminum extrusions (6063-T6) with 2 coats of Kynar finish. The glass panels are made up of 13/16" thick, low-iron, tempered laminated glass with a 5/8" PVB gray vertical frit interlayer.
Aluminum fins are one of many options that architects have when considering building fins as an architectural element. Often, the decision to use fins in a façade application is as much about aesthetics as it is about performance. Fins enhance aesthetics by adding depth and perspective to create a multi-dimensional structure and a sense of movement to the façade. On this project, the decision was made to have the fins project inwards of the structural glass façade, giving the façades a shading element that further contributes to the energy efficiency of the building.
The end result is a series of structural glass façades that create a stunning echo for the radiant Midland sunsets. The aluminum fins play their critical role as structural, shading and decorative elements, creating shadows that dance with the changing position of the sun. Welcoming and stunning, this VetraFin-A system allows for natural light flow and movement throughout the day, and is one to be visited on your next trip to Midland!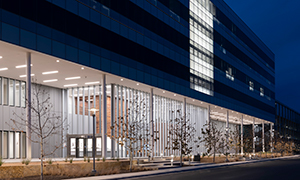 Architect: RWA Architects
Glazing Contractor: Duke Glass