Expedia Group's new Seattle headquarters, completed in 2020, has not only redefined campus architecture, but its soaring structural glass entrances have pushed insulated glass technology to new heights.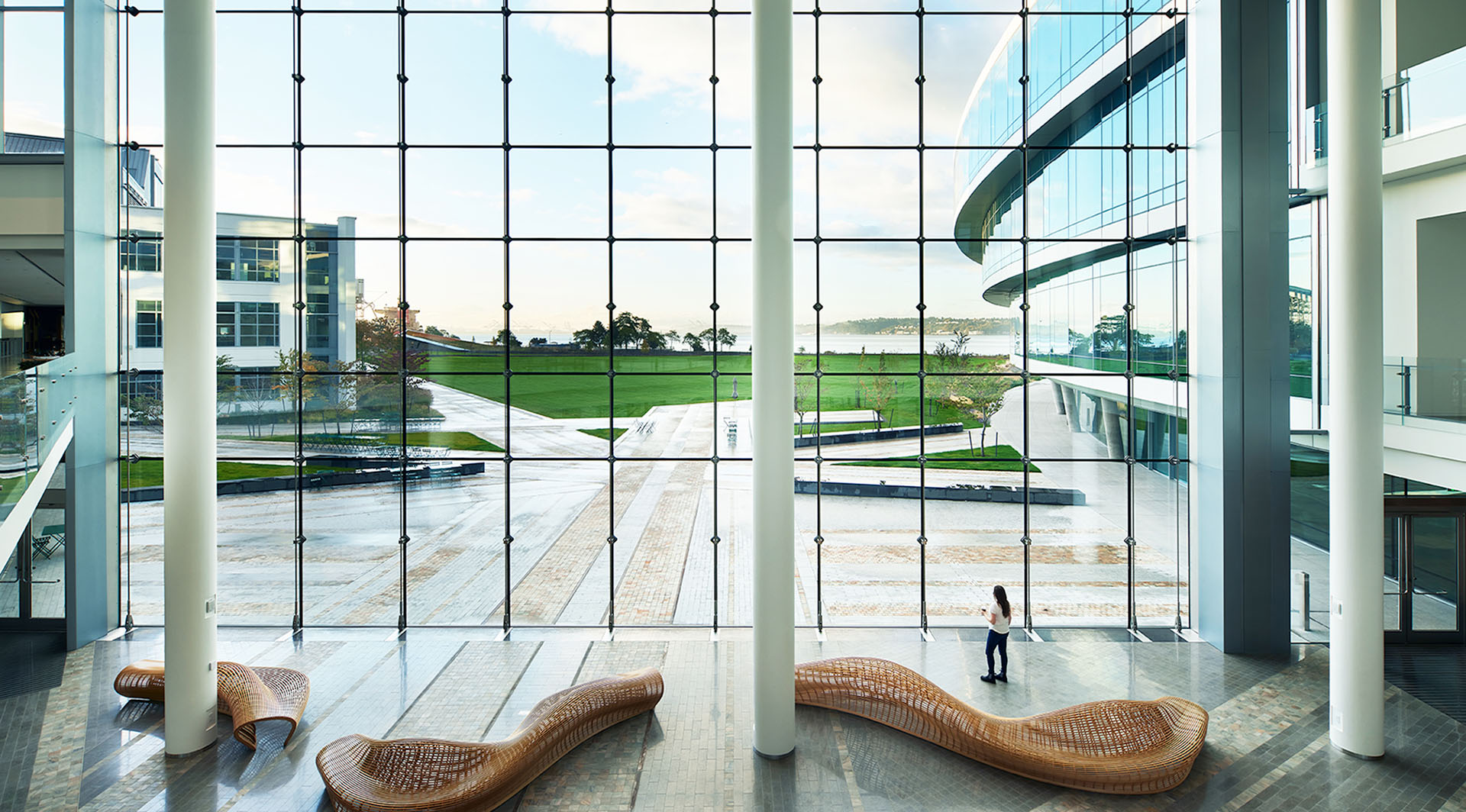 Project Overview
The 40-acre Interbay campus integrates open workspaces, dynamic floor plans, wi-fi enabled outdoor spaces, walking trails, recreation facilities and more to connect employees with their immediate environment while embracing the Pacific Northwest costal setting. Designed by architecture firm ZGF Architects, the project was an 850,000 square foot renovation and expansion of the existing Amgen waterfront campus on Elliot Bay. With room for up to 8,000 employees, the design was intended to provide an innovative approach to the workplace- the creation of an inclusive, enriching, and dynamic workplace and collaborative environment, where employees from the global travel platform could come together to learn, work, play and grow. The design also embraced the sustainable, energy-efficiency and eco-friendly goals of the tech company.
The design of Expedia Group's Interbay Headquarters has been aptly labeled "biophilic"- a concept used in the building industry to denote spaces that increase our connectivity to the natural environment to improve health, well-being, and occupancy comfort in the built environment. Essentially, "biophilic" design is design that reconnects us with nature. There are several design patterns that biophilic design encompasses; these include a visual connection with nature, thermal comfort and airflow variability, dynamic natural light, and connection with natural systems.
Material & System Selection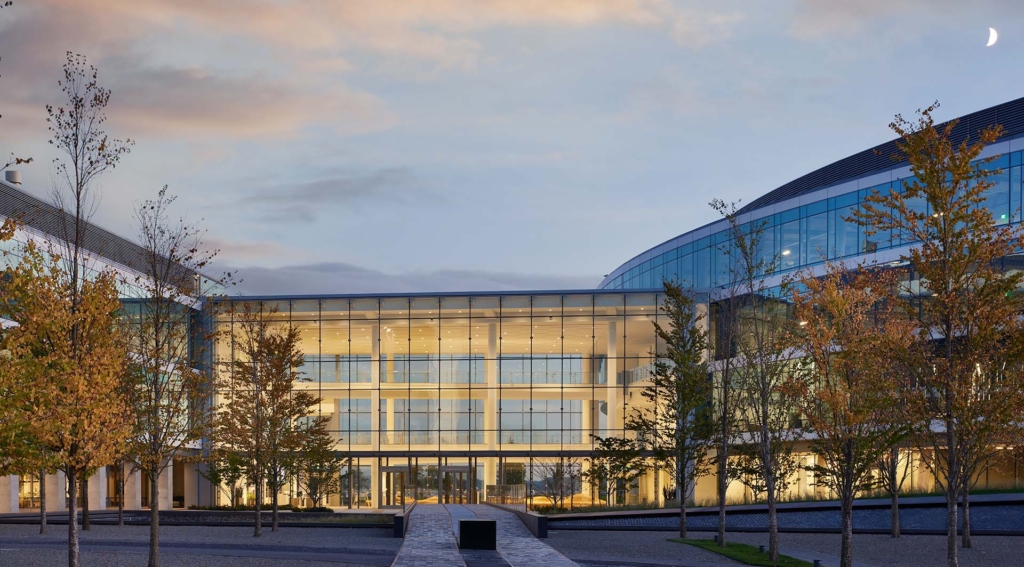 As the design of Expedia's Headquarters progressed and material choices were made for the entrance and building envelope, structural glass became an obvious choice to meet biophilic design requirements. Material selection for the entrance façades ultimately came down to the use of insulated glass to maintain energy efficiency requirements and meet green building standards, while enabling maximum transparency with the minimal support of pre-tensioned cables.
The main entrance to Expedia's Corporate Headquarters thus features two soaring structural glass, insulated cable net walls, a structural glass vestibule and a structural glass canopy – all designed, engineered and supplied by Sentech. The entrance façades utilize Sentech's VetraNet series system and span over 48′ in height and 148′ in width, totaling over 10,900 square feet of structural glass. The wall IGU panels utilize 1-5/8″ thick low-iron tempered insulated glass units with an SGP laminated inboard and outboard lite. Dynamic and minimalist, the use of pre-tensioned cables creates an optical "net" effect, and utilizes the cable arrangement for flexibility, durability, and resistance to high environmental loads.
Novelty & Challenges of the Façade Design
A critical aspect in the design of these façades was the use of insulated glass units with a (pre-tensioned) cable-supported structural glass wall system. Why is that important and novel? The insulated panels within these types of walls undergo large warping deformations that are difficult to accommodate, and there are few – if any – cable net walls that have been built taking advantage of insulated glass technology.
The selection of insulated structural glass as the key design element for the main entrance seamlessly integrated with the biophilic design mandate and ensured energy efficiency and green building requirements were met. The façades also serve to connect occupants to the natural environment through maximized transparency and the deliberate selection of high-performance materials- ensuring efficient load transfer, energy savings, and long-term sustainability. Soaring and deliberately expansive, the entrance to Expedia Group's sprawling, innovative headquarters welcomes its occupants with the open arms of the human-environment connection through unlimited natural light and stunning views of the surrounding Olympic mountains, the Seattle Skyline and Elliot Bay. Just a mile north of Seattle, Expedia's new headquarters has brilliantly redefined what is essential in campus architecture.
Learn more –> Click Here
Credits
Architect: ZGF Architects
Contractor: GLY Construction
Glazing Contractor: Benson Industries
Development Manager: Seneca Group
Interior Design: AvroKO
Landscape Architect: Surface Design
Owner: Expedia Group
Photography: Benjamin Benschneider Photography
Performance Rating
LEED v4 Gold
SITES v2 Gold
Salmon Safe